Alaska Guide and Lodge Insurance
for Alaskan Fishing, Hunting and Tourism Businesses
~ offered by the Zeiger Insurance Agency
~ 10 Reasons Why Our Lodges, Guides & Outfitters Policies
are your best choice:
1. A+ Rating from A.M. Best
2. Coverage provided on an admitted basis
3. Specialized loss control services, including free safety manuals
4. Dedicated claims staff with extensive experience in the outdoor recreation and
hospitality industries
5. Ability to write high limits of frame, unprotected property coverage
6. Medical Payments included at $5,000
7. Experienced underwriting staff for superior service
8. No exclusions for tree stands or ATVs
9. Liability coverage for watercraft up to 26 feet in length INCLUDED **
Inland Marine coverage available for boats, motors and portable equipment
10. Interest free direct bill installments plans available
** TRANSPORTER LIABILITY INSURANCE AVAILABLE

LIMITS: $ 300,000 TO $ 5,000,000 OR MORE
WITH COMMERCIAL UMBRELLA

***** FREE NO OBLIGATION QUOTE ******

CLICK " CONTACT US " FOR OUR FREE QUOTE
For all your insurance needs, you can count on Zeiger Insurance Agency. We offer quality A+ Carrier products for all your personal and commercial insurance needs in the Alaska area. We have an excellent guide, outfitter, and lodge insurance package for fishing, hunting, gun clubs, and more. We have been in business since 1981. From then until today, we provide all of our clients with quality and personal insurance services.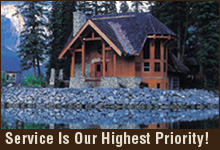 Learn More About Zeiger Insurance Agency:
Property Insurance
Liability Insurance
Business Insurance
Boat insurance
Recreational Vehicle insurance
Travel insurance
We are also licensed in Pennsylvania, Florida and Delaware. We have been serving Alaska since 2000.
Contact Zeiger Insurance Agency today at 717-763-1882.