Colorado Homesteads, Land
And Real Estate For Sale
- properties include ranches, cabins and farms for sale
If you're looking for a unique parcel of Colorado real estate, a vacation property, ranch, cabin or your homestead in paradise, this is a good place to start.

Reed Springs Creek Ranch - SOLD
Located 20 minutes from Kiowa with easy access to Denver or Colorado Springs. The property consists of 980 acres of grassland with a cottonwood treed creek bottom on the property. There is a three bedroom, one bath home and outbuildings which are adequate for the operation. A variety of wildlife is prevalent on the ranch and in the area. The property is ideal for a livestock operation and the creek bottom enhances the wildlife make up which consists of mule deer, antelope, coyote and other small animals plus a variety of raptors.
Simla, Colorado $684,000
Woodside Farm
Colorado Ranch for sale located near Fort Morgan 
  "The Crown Jewell of the South Platte" 
717 total acres, 637 deeded acres, 80 acres State Land Lease
 Home to undisturbed natural wildlife habitat and boundless beauty, Woodside offers unique diversity, fertile soils and abundant water resources.  With an expansive 637 acres to discover, whether one chooses to walk or ride on horseback, the day's end comes all too soon.  Rediscover where Union Pacific locomotives, of times past, steamed through on the still visible rail bed, traversing in an east/west direction.
Contact - Dave Banzhaf - 720-279-2548

Cabin Building Packages.
Also offered by this directory are cabin building plans, materials, and log cabin kits and packages, for those who want to have a permanent vacation home in one of the Western states. Whether you are building a cabin in the wilderness or a cottage on the road system, the links in this directory should help you find what you're looking for in Log Cabin Packages .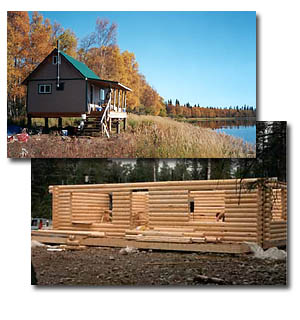 For information about adding your listing to this directory,
please contact:
Alaska Internet Marketing, Inc.
Anchorage, Alaska
(907) 274-9954

info@alaskaoutdoors.com
Copyright 2011, Alaska Internet Marketing, Inc. All rights reserved.